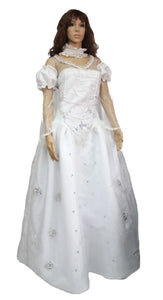 FOR RENT ONLY.  VERIFY FIT AND AVAILABILITY BEFORE PAYMENT.
Character: White Queen
Description: Alice in Wonderland, fairy tale, Disney, female, gown
Inclusion: dress
Condition: 8/10 – Very good
Size (inch): Adult. Free size. Fits best if L to XL. Dress length 62in.

Price: Payment includes Rental Fee PLUS Security Deposit.  Check table below for applicable fees and charges.
Rental Fee = Overnight Rate + Surcharge(Extra Days)
Security deposit is REFUNDABLE upon return of item/s.
Surcharge is applied in excess of rental period.
By renting you agree to the Rental Agreement.